Two Rotax 185 engines
Wing Covering material – one new role available
Landing gear in back
Bringing the fuselage parts out to start putting my Lazair 2 back together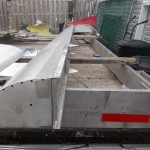 The left wing look good, but it does need new covering.
The right wing need a little bit of work ; It got a wing tip bump ;
I will need to reinstall ribs, change outer leading edge piece, make new trailing edge for main ribs of central section, and fix wing tip. This is not very hard but I got to find the time to do it if I want to fly it soon..